I had great passion for science since my child hood so started my career by doing BSc Biochemistry (Madras University). After which joined Sankara Nethralaya in 2001 as M.Sc student (BITS affiliated MSc-MLT course) was so excited to witness high end sophisticated lab facility in an eye hospital in Chennai which aspired me to learn further. I was blessed with wonderful teachers in all fields like Biochemistry, Microbiology, Genetics, Hematology and Pathology where they brought in the spirit for pursuing my research career in the ocular field. I did my PhD in Diabetic retinopathy to understand the beneficial role of amino acids in mitigating the disease pathogenesis. During my PhD, I have established the retinal endothelial cell culture and pericyte culture for the first time in my lab using in-house protocols and used these as diabetic retinopathy models for my research. Later focused to work on, developing human umbilical vein endothelial culture and angiogenesis assays in the lab with my mentor. These models are now being used extensively in our lab.
Memberships:
Life Member: Society of Biological Chemists (SBC-I), India.


Life Member Indian society for Cell biology – India.
Teaching and Training: I have been involved in teaching theory and practical's classes for BSc and MSc students of MLT and optometry from the year 2004. Also involved in conducting classes for Hands on training students
Dissertations: Have trained hands on around 7 students so far from various institutes
Have completed three projects first being the Young Scientist Award from SERB in 2015.


Have Published 15 Papers so far.


2 Patents filed


Have contributed chapters in 2 books which got published in 2015.
Research Interest
My research interest is to identify therapeutic targets which can decrease oxidative stress, mitochondrial dysfunction, endoplasmic reticulum stress, angiogenesis and inflammation in ocular diseases.
Currently working on a copper transporter to elucidate its role in mitochondrial biogenesis, angiogenesis (patent filled) and inflammation
The role of antioxidant enzyme paraoxonase in mitigating endoplasmic reticulum stress and inflammation in diabetic retinopathy
The role of Cystathionine beta synthase a homocysteine catabolic enzyme and hydrogen sulphide a gaseous transmitter in regulating mitochondria, angiogenesis and inflammation
Google Scholar : Check out this link
Publications (List of papers published in SCI Journals, in year wise descending order).
Vidhya S, Ramya R, Coral K, Sulochana KN1, Bharathidevi SR* . Free amino acids hydroxyproline, lysine, and glycine promote differentiation of retinal pericytes to adipocytes: A protective role against proliferative diabetic retinopathy. Exp Eye Res. 2018 Aug;173:179-187


AnandBabu K, Bharathidevi SR, Sripriya S, Sen P, Prakash VJ, Bindu A, Viswanathan N, Angayarkanni N.Serum Paraoxonase activity in relation to lipid profile in Age-related Macular Degeneration patients. Exp Eye Res. 2016 Nov;152:100-112


S R Bharathi Devi, Aloysius Dhivya M, Sulochana KN. Copper transporters and chaperones: Their function on angiogenes is and cell signaling. J Biosciences 2016 Sep;41(3):487-96.


Bharathi Devi SR, Coral K, Sulochana KN, Angayarkanni N.Free Amino Acids Glycine and Glutamic Acid Inhibit Angiogenesis Induced by AGE in Bovine Retinal Endothelial Cells. J Glycomics Lipidomics 2015, 5:130


Bharathidevii SR, Anand Babu K, Nishit J, Muthukumaran S, Umashankar V, Biswas J, AngayarkannI N. Ocular distribution of the Antioxidant enzyme Paraoxonase and its alteration in Cataractous Lens and Diabetic Retina , IJMR 2015


Bharathi Devi. SR K.Coral, KN Sulochana, Angayarkanni N,Free Amino Acids Glycine and Glutamic Acid Inhibit Angiogenesis induced by AGE in Bovine Retinal Endothelial cells.Journal of glycomics and lipidomics


Jasna JM, Anandbabu K, Bharathi devi SR, Angayarkanni N Paraoxonase enzyme protects retinal pigment epithelium from chlorpyrifos insult. PLoS One. 2014;30;9(6):e101380.Gomathy N, Bharathidevi S. R.,Harish V,Bharathselvi M, Sulochana KN. CTR1 Silencing Inhibits Angiogenesis by Limiting Copper Entry into Endothelial Cells. 2013 PloS ONE 8(9): e71982.


Bharathi Devi SR, Suganeswari G, Tarun Sharma, Thennarasu M, Angayarkanni N. Homocysteine induces oxidative stress in young adult central retinal vein occlusion Br J Ophthalmol. (2012) doi:10.1136


Barathi S , Charanya M, Angayarkanni .N, Umashankar, Comparative modeling of PON2 and analysis of its substrate binding interactions using computational methods. 2011. J Ocul Biol Dis inform, DOI 10.1007/s12177-011-9057-7


Subramaniam B, Narayanasamy A, Pasupathi A, Sulochana KN, Pukraj R, Dhupper M, Thirumurthy V, Muralidharan C, Sivashanmugham M. Homocysteinethiolactone and Paraoxonase – novel markers of Diabetic Retinopathy. Diabetes Care 33:2031–2037, 2010


Barathi Subramaniam, Angayarkanni N ,Venil. N. Sumantran.GLUT-1 Expression In Bovine Retinal Capillary Endothelial Cells And Pericytes Exposed To Advanced Glycation End Products Invest Ophthalmol Vis Sci. 2010;51:6810–6814


Angayarkanni N, Barathi S, Seethalakshmi T, Punitham R, Ramakrishnan S, Tarun Sharma. Serum PON1 Arylesterase activity in relation to Hyperhomocysteinemia and Oxidative stress in young adult Central Retinal Venous Occlusion patients Eye 2007;1-6.


Narayanasamy A, Subramaniam B, Karunakaran C, Ranganathan P, Sivaramakrishnan R, Sharma T, Badrinath VS, Roy J. Hyperhomocysteinemia and low methionine stress are risk factors for central retinal venous occlusion in an Indian population. Invest Ophthalmol Vis Sci. 2007 Apr; 48 (4): 1441-6


Barathi S, Vadhana P, Angayarkanni N, Ramakrishnan S. Estimation of hydrogen sulphide in the human lymphocytes. Indian J Biochem Biophys. 2007; 44 (3): 179-82.


Details of patents.
| S.No | Patent Title | Name of Applicant(s) | Patent No | Award Date | Status |
| --- | --- | --- | --- | --- | --- |
| 1 | Inhibition of Angiogenesis by decreasing copper in endothelium | Bharathidevi SR, Gomathy Iyer , Prof K N Sulochana | FILE NO:3221/Che/2012 (dt 9/8/12) | Filed | In process |
| 2 | A Method of Identifying an Amino Acid that enhances the production of Nitric Oxide | Vidhya S, Bharathidevi SR, Selvi R, Prof. KN Sulochana | FILE NO.:3220/Che/2012(dt 9/8/12) | Filed | In process |
Books/Reports/Chapters/General articles etc
| S.No | Title | Author's Name | Publisher | Year of Publication |
| --- | --- | --- | --- | --- |
| 1 | Chapter on "Toxicology," in Dr.Santhanam'S Text book of occupational optometry First Edition, SN, 2015 pp 219-39 | Angayarkanni N, K Coral, SR Bharathidevi | Gnanodaya Press | 2015 |
| 2 | Ocular biochemistry chapter in "Pharmacology of Ocular Therapeutics". | Angayarkanni N, K Coral, SR Bharathidevi | Springer Publications | 2015 |
Professional Recognition/ Award/ Prize/ Certificate, Fellowship received by the applicant.
2015
Young Scientist Award from SERB- FAST TRACK
2009
BS. Narasinga Rao best poster award from Society of Biological chemist conference (SBCI)
2009
Swarnalatha Punshi Award from Institutional award for best research work , Sankara Nethralaya
2009
Best poster of the session as well as the Best Overall poster –runner up in the diabetic session from ASIA- ARVO at Hyderabad
2009
Travel grant award from ASIA- ARVO Conference-Hyderabad
2008
Best Oral presentation Award from Bajaj International Conference at Chennai
2008
Travel grant Award from ARVO, US
PhD Students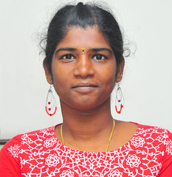 Ms Ramya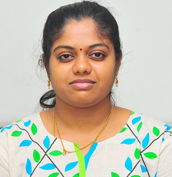 Ms Aloysius Dhivya

Dr.S.R.Bharathi devi
Associate Professor / Principal Scientist
RS Mehta Jain Department of Biochemistry and Cell Biology
Vision Research Foundation,
41/18 College Road, Nungambakkam
Chennai – 600 006.
Ph: +91-(044) 28271616 Extn: 1314
Email: drbarathi@snmail.org