Interested to study the role of epigenetics in the biology of Ocular cell models and patient samples and to study the function of epigenetic factors in disease progression using emergingmolecular biology tools to study key biological systems.
The Epigenetics are the fundamental mechanisms by which non-genetic modulation and alterations influences chromatin architecture, transcription and gene expression in cells and provides insights into biological processes that modulate the effects of environmental exposures. It also focuses on the molecular basis of gene regulatory pathways using genomic and molecular approaches.The global epigenetic makeup of a cell is a powerful indicator of its developmental state and potential. While most cells of the body share the same genetic material, the cell type-specific interpretation of that information is largely dependent on epigenetic mechanisms. These include DNA-methylation and a variety of different histone modifications, which are heritable between cell divisions in order to maintain cellular identity. Our laboratory is interested in elucidating the molecular mechanisms involved in ocular diseases with a particular interest in the role of epigenetic regulation.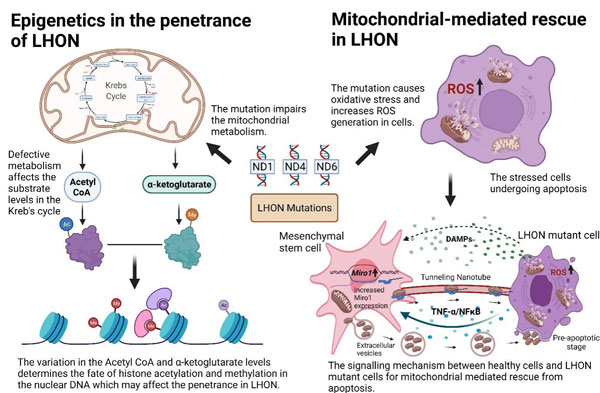 1. Evaluating the epigenetic background of Leber's Hereditary Optic Neuropathy by exploring the histone modifications associated with the Nuclear-Encoded Mitochondrial genes
Leber's Hereditary Optic Neuropathy is a mitochondrial dysfunctional disorder caused due to point mutation in the mtDNA encoding ND1, ND4, and ND6 proteins of respiratory Complex 1 subunits. Impairment of mitochondria can affect the mitochondrial metabolism and its substrate demand (Acetyl CoA and α-ketoglutarate) for histone modifications. Our research group is trying to understand the histone modification changes in mitochondrial diseases. This study is focused on elucidating the histone modifications and their specific enrichments of the nuclear-encoded mitochondrial genes encoding the respiratory complex 1 subunit. Acetylation, di-methylation, and tri-methylations were studied by designing monoclonal antibodies (mAb) to specific histone modifications. We employ Chromatin immunoprecipitation (ChIP) platform to study the histone modifications. We recently studied the histone enrichments and epigenetic regulation of NDUFS4 (a nuclear-encoded mitochondrial complex 1 gene associated with multiple clinical manifestations) by performing ChIP-qPCR. Now we are currently working on ChIP-Seq of nuclear-encoded mitochondrial genes to understand the epigenetic landscape of nuclear-mitochondrial DNA resulting from impaired mitochondrial metabolism.
2. Understanding the mechanism of Mitochondrial-mediated rescue in Leber's hereditary optic neuropathy
Another focus of our research involves, understanding the mitochondria and its mechanism in Leber's Hereditary Optic Neuropathy (LHON). Due to pathogenic mtDNA mutation in MT-ND1, Mt-ND4, and MT-ND6, the electron flow in the mitochondria is impaired, and the free electrons induce oxidative stress in the cell by releasing reactive oxygen species (ROS). Previous studies demonstrated the mechanism of mitochondrial transfer to stressed cells for cellular rescue. We are deciphering the stem cell -mediated mitochondrial rescue mechanism in the ND1, ND4, and ND6 mutant cell lines, by priming both the cells . The study is focused on in vitro characterization of all three mutations and their ROS generated at the cellular level to assess the protective effect

Ongoing Projects
Title: Mesenchymal stem cell mitochondrial transfer effectively protects mutant Leber's Hereditary Optic Neuropathy (LHON) cells from mitochondrial damage: Molecular and epigenetic screening of LHON patients.
Funding Agency: DST-SERB
Duration: 2021-2023


Title: Screening of mitochondrial transfer and epigenetic markers in Leber's Hereditary Optic Neuropathy (LHON) cells for its protective effect from mitochondrial dysfunction.
Funding Agency: ICMR
Duration: 2019-2022


Title: Analysis of protective effect of mesenchymal stem cell mitochondrial transfer on mutant Leber's hereditary Optic Neuropathy (LHON) cells from mitochondrial damage.
Funding Agency: CSIR
Duration: 2020-2023
G Karin , K Anju , K Orit , KM Eman , S Mohana Devi , SF Zulma , A Francesca , T Lapidot et al. Daily Onset of Light and Darkness Differentially Controls Hematopoietic Stem Cell Differentiation and Maintanence. Cell Stem Cell (2018) 23, 1-14.https://doi.org/10.1016/j.stem.2018.08.002.


V Balachandar, L Anand, B Venkatesh, J Kaavya, I Mahalaxmi, S Mohana Devi. Screening of chromosomal alterations, K-RAS mutationsand DNA methylation status in APC promoter of familial and sporadic cases with carcinoma of the ampulla of vater in Tamil Nadu population. Gut (BMJ Journals) (2018). http://dx.doi.org/10.1136/gutjnl-2018-IDDF41


YCui ,VVPrabhu , BNThong , SMohana Devi ,YCChung . Longer telomere length of T lymphocytes in patients with early and chronic Psychosis. ClinPsychopharmacolNeurosci.(2017) 15(2): 146 – 152.


VBalachandar ,VDhivya , MGomathi , SMohana Devi ,BVenkatesh , BGeetha. A review of Rett syndrome (RTT) with induced pluripotent stem cells (iPSC).Stem Cell(2016) 3. doi: 10.21037/sci.2016.09.05


V Dhivya, S Ramkumar, D Illakiyapavai, M Sangeetha, S Ganesan, S Mohana Devi.Screening of Genetic Mutations in Early Onset Parkinsonism Patients: A Family Based Study in Tamil Nadu Population. International Journal of Human Genetics(2016) 16 (3-4), 158-165.


S Mohana Devi, K Sasikala, V Balachandar. A Study On Cytogenetic and MolecularAnalysisOfPresenilin 1 (Ps1) Gene In Alzheimer's Disease. Value in health: (2015). Vol.18, Issue 7, Pages A683-A683.


S. Mohana Devi and I.H. Kim. Clays as dietary supplements for swine: AReview. Journal of Animal Science and Biotechnology. (2015) 6:38 DOI 10.1186/s40104-015-0037-9.


S Mohana Devi, B Balamuralikrishnan, S Sureshkumar, A Karthickkumar,MahalaxmiIyer, R. Jayalakshmi, K. Sasikala, V. Balachandar. Immunological markers, dopamine level and oxidative stress markers in Parkinson's disease patients in South India. Movement Disorders (Wiley-Blackwell)(2014) 29, S83-S84.


V. Balachandar, S. Suresh Kumar, S.Mohana Devi,B.Balamurali Krishnan, M.Arun, A.Karthick Kumar, P. Varsha, S.Mustaqahammed, K.Shankar, P.Manikantan, R.Banu, A.Sheelapriyadharshinee, S. N.Dharwarkar, Ssang Goo-Cho and K.Sasikala. Cytogenetic Endpoints and Xenobiotic Gene Polymorphism in Lymphocytes of Hospital Workers Chronically Exposed to Ionizing Radiation in Cardiology, Radiology and Orthopaedic Laboratories. Ecotoxicology and Environmental Safety (Elsevier),(2014)100,266–274 DOI: 10.1016/j.ecoenv.2013.09.036.


S. Mohana Devi, V. Balachandar, S. Suresh Kumar, B. Balamuralikrishnan, K.Sasikala. Analysis of genetic damage and gene polymorphism in Hepatocellular Carcinoma (HCC) patients in South Indian population. Digestive Diseases and Sciences (Springer). (2013)(DOI: 10.1007/s10620-012-2409-8). 58, 3, 759-767.


S Sureshkumar, V Balachandar, SMohana Devi, M Arun, A Karthickkumar, Estimation of cytogenetic risk among coke oven workers exposed to polycyclic aromatic hydrocarbons.ActaBiochimicaPolonica(2013) 60 (3).


S. Mohana Devi, B Vellingiri, AMeyyalagan, K Alagamuthu, M Pappusamy, SKeshavarao. Detection of genetic alterations in patients with hepatocellular carcinoma (HCC) in Coimbatore population. European Journal of Cancer Supplements(2012) 8 (7), 195.


S. Mohana Devi, V.Balachandar, P. Manikantan, K.Sasikala, M.Arun, A.KarthickKumar, S. MustaqAhamed, B. Balamurali Krishnan, S. Suresh and S.Sudha. ElevatedRheumatoid Factor (RF) from peripheral blood of patients with rheumatoid arthritis (RA) have altered chromosomes in Coimbatore population, South India. Journal of Clinical Medicine and Research. (2012) Vol. 2(9), pp. 143-151.


SMohana Devi, V Balachandar, M Arun, RM Kumar, K Sasikala. Analysis of ACE I/D polymorphism and its association in Colorectal cancer (CRC) patients in South Indian populationJournal of Medical Genetics(2012) 49, S51-S51.


V. Balachandar, M. Arun, S. Mohana Devi, P. Velmurugan, P. Manikantan, A. Karthick Kumar, K. Sasikala, C. Venkatesan. "Evaluation of the genetic alterations in direct and indirect exposures of hexavalent chromium [Cr(VI)] in leather tanning industry workers North Arcot District, South India". Int Arch Occup Environ Health (Springer) (2012)83:791–801.


V. Balachandar, B. Lakshman Kumar, S. Mohana Devi, R. Sangeetha, P. Manikantan, S. Suresh Kumar, S. Sudha, K. Sasikala and S. N. Dharwadkar. "Identification of Chromosome Aberrations among Benign Prostatic Hyperplasia Patients in Tamil Nadu, Southern India". Int. J. Hum. Genet, (2012)10(1-3): 159-164.


S. Bindhya, V. Balachandar, S. Sudha, S. Mohana Devi, P. Varsha, K. Kandasamy, V. Gnana Prakash, K. Sasikala. "Assessment of Occupational Cytogenetic Risk, Among Petrol Station Workers". Bull Environ ContamToxicol(2012) 85:121–124 (Springer). DOI 10.1007/s00128-010-0068-z.


V Balachandar, RK Kumar, V Prakash, SMohana Devi, BL Kumar, P Manikantan. Evaluation of genetic alterations in inhabitants of a naturally high level background radiation and Kudankulam nuclear power project site in India. Asian Pac. J. Cancer Prev(2011)12, 35-41.


BL Kumar, V Balachandar, K Suresh, R Sangeetha, S Mohana Devi.Tropical Chronic Pancreatitis (TCP): A Cytogenetic Study in Patients Residing in and around Coimbatore City, Tamil Nadu. International Journal of Human Genetics (2010) 10 (1-3), 141-145.


S. Mohana Devi, V.Balachandar, P.Manikantan, R. Sangeetha, K.Sasikala and L.Venkatakrishnan.Identification of chromosomal aberrations by using the Trypsin G-Banding in Hepatocellular carcinoma Patients (HCC) in Tamilnadu region. Tropical Life Sciences Research, (2010) 21(1), 33–49.


V Balachandar, BL Kumar, K Sasikala, P Manikantan, R Sangeetha,S.Mohana Devi.Identification of a high frequency of chromosomal rearrangements in the centromeric regions of prostate cancer patients. Journal of Zhejiang University SCIENCE B (2007)8 (9), 638-646.
2015
Travel Fellowship Award - Miami Winter Symposium 2015: Towards Personalized Cancer Medicine, Miami, USA.
2013
Travel Award – 11th World Congress of Biological Psychiatry, Kyoto, Japan, June, 2013
2012
Trainee Full Scholarship Award – 13th International meeting on Human Genome variation and complex Genome analysis (HGV'2012), Shangai, China.
Young Scholar Award (Bharathiar University).
Best PhDThesis award and Gold Medal.
Research Associateship (CSIR).
International Travel Award– European Society of Human Genetics (ESHG), Vienna, Austria.
Senior Research Fellowship (CSIR)
Dr S Mohana Devi, PhD
ONGC Department of Genetics and Molecular Biology
Vision Research Foundation,
41/18 College Road, Nungambakkam
Chennai – 600 006.
Ph: +91-(044) 4227 1807
Email: drmohanadevi@snmail.org