Dr. Parameswaran received her doctoral degree from the Tamilnadu Dr. MGR University in Biomedical Sciences. She completed her postdoctoral training at the University ofNebraska Medical Center, NE, USA where she pursued her research utilizing induced pluripotent stem cells to generate retinal cells and understanding the mechanism involved in retinal development and regeneration. She joined RadheshyamKanoi Stem Cell Laboratory as Assistant Professor during March 2014 with anaim to establish a self-sufficient research laboratory capable of generating patient-specific induced pluripotent stem cells for therapy and disease modeling in ocular diseases.
Current Research focuses on generating human induced pluripotent stem cells(iPSCs) from various ocular degenerative diseases and utilizing them for studying ocular development and (iPS) diseases.
Research Projects:
Patient derived induced pluripotent stem cells (iPSCs) for modeling retinoblastoma tumorigenesis
Retinoblastoma (RB) is a common pediatric intraocular tumor. Currently, there are no adequate models available to provide an insight into the mechanism of RB tumorigenesis. The project aims to test the feasibility of generating induced pluripotent stem cells (iPSCs) from germline RB patients. It is hypothesized that the RB patient derived-induced pluripotent stem cells (RB‐iPSCs) when differentiated towards retinal lineage might recapitulate RB1-directed tumorigenesis. Towards generating RB-iPSCs, orbital adipose tissues from retinoblastoma patients post-enucleation was obtained. Orbital adipose mesenchymal stem cells (OA-MSCs) were isolated and characterized by the expression of surface marker CD105. These OA-MSCs were reprogrammed by nucleofection of episomal plasmids carrying pluripotency factors to generate RB-iPSCs. These RB-iPSCs express the pluripotency markers and has the potential to differentiate into all the three lineages (ectoderm, endoderm and mesoderm). The results provide evidence for the feasibility of iPSC generation from germline RB1 patient. The differentiation of RB-iPSCs to retinal lineage is currently being carried out.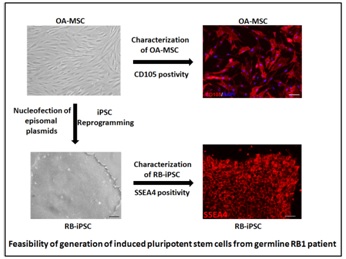 Generation of retinal pigment epithelial cells from induced pluripotent stem cells
The utility of pluripotent stem cells in cell therapy was shown by a recent clinical trial conducted by Advanced cell technology to treat Age-related macular degeneration (AMD) and Stargardt disease (SD). The clinical trials suggested that the human embryonic stem cell (hESC) derived retinal pigment epithelial (RPE) cells were safe and well-tolerated by both AMD and SD patients. One of the two important factors associated with the adverse effect seen in the clinical trial was the use of immunosuppressive regimen followed owing to the allogeneic nature of the source cells. Induced pluripotent stem cells (iPSCs) have been identified as an autologous and ethical source of stem cells with potentials similar to human embryonic stem cells. In this project, induced pluripotent stem cells were generated from skin fibroblasts of normal individuals after obtaining informed consent. The induced pluripotent stem cells was differentiated into retinal pigment epithelial cells by following a stepwise protocol which recapitulates normal retinal and RPEhistogenesis.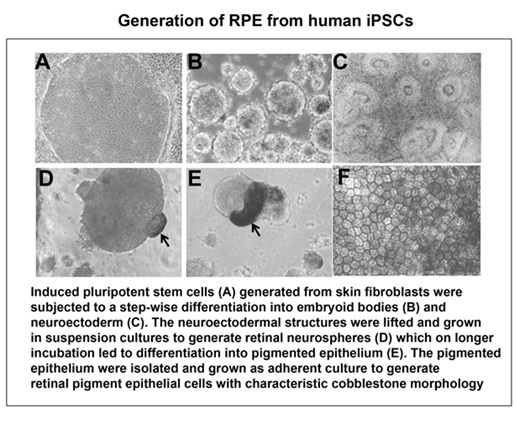 Research articles
Vincent A, Khetan V, Rishi P, Suganeswari G, Krishnakumar S, Krishnan UM, Parameswaran S. Generation of a human induced pluripotent stem cell line (VRFi001-A) from orbital adipose tissue of a bilateral retinoblastoma patient with heterozygous RB1 gene deletion. Stem Cell Res. 2018 May;29:42-45.


Parameswaran S, Krishnakumar S, Khetan V. The Roundabout Way of Finding the Right Target. J PediatrOphthalmol Strabismus. 2018 Jan 1;55(1):11-12.


Kalmodia S, Parameswaran S, Ganapathy K, Yang W, Barrow CJ, Kanwar JR, Roy K, Vasudevan M, Kulkarni K, Elchuri SV, Krishnakumar S. Characterization and Molecular Mechanism of Peptide-Conjugated Gold Nanoparticle Inhibiting p53-HDM2 Interaction in Retinoblastoma. MolTher Nucleic Acids. 2017 Dec 15;9:349-364.


Parameswaran S, Krishnakumar S. Pluripotent stem cells: A therapeutic source for age-related macular degeneration. Indian J Ophthalmol. 2017 Mar;65(3):177-183.


Aakalu VK, Parameswaran S, Maienschein-Cline M, Bahroos N, Shah D, Ali M, Krishnakumar S. Human Lacrimal Gland Gene Expression. PLoS One. 2017 Jan 12;12(1):e0169346.


Del Debbio CB, Mir Q, Parameswaran S, Mathews S, Xia X, Zheng L, Neville AJ, Ahmad I. Notch Signaling Activates Stem Cell Properties of Müller Glia through Transcriptional Regulation and Skp2-mediated Degradation of p27Kip1. PLoS One. 2016;11(3):e0152025.


Gopakumar V, Chatterjee N, Parameswaran S, Nirmala S, Krishnakumar S. In vitro transdifferentiation of human skin keratinocytes to corneal epithelial cells. Cytotherapy. 2016;18(5):673-85.


Kalmodia S, Parameswaran S, Yang W, Barrow CJ, Krishnakumar S. Attenuated Total Reflectance Fourier Transform Infrared Spectroscopy: An analytical technique to understand therapeutic responses at the molecular level. Sci Rep. 2015 Nov 16;5:16649.


Ahmad I, Zhao X, Parameswaran S, Destache CJ, Rodriguez-Sierra J, Thoreson WB, Ahmad H, Sorrentino J, Balasubramanian S. Direct differentiation of adult ocular progenitors into striatal dopaminergic neurons. Int J Stem Cells. 2015 May;8(1):106-14.


Parameswaran S, Dravid SM, Teotia P, Krishnamoorthy RR, Qiu F, Toris C, Morrison J, Ahmad I. Continuous non-cell autonomous reprogramming to generate retinal ganglion cells for glaucomatous neuropathy. Stem Cells. 2015 Mar 5. doi: 10.1002/stem.1987.


Parameswaran S, Xia X, Hegde G, Ahmad I. Hmga2 regulates self-renewal of retinal progenitors. Development. 2014 Nov;141(21):4087-97.


Parameswaran S, Balasubramanian S, Babai N, DelDebbio CB, Harms DW, Gurumurthy CB, Rao MS, Sharp JG, Ahmad I. Nucleic acid and non-nucleic acid-based reprogramming of adult limbal progenitors to pluripotency. PLoS One. 2012; 7(10): e46734.


Ahmad I, Del Debbio CB, Das AV, Parameswaran S. Müller glia: a promising target for therapeutic regeneration. Invest Ophthalmol Vis Sci. 2011 Jul 29;52(8):5758-64.


Parameswaran S, Balasubramanian S, Rao MS, Ahmad I. Concise review: non-cell autonomous reprogramming: a nucleic acid-free approach to induction of pluripotency. Stem Cells. 2011 Jul;29(7):1013-20.


Ahmad I, Balasubramanian S, Del Debbio CB, Parameswaran S, Katz AR, Toris C, Fariss RN. Regulation of ocular angiogenesis by Notch signaling: implications in neovascular age-related macular degeneration. Invest Ophthalmol Vis Sci. 2011 May 2;52(6):2868-78.


Del Debbio CB, Balasubramanian S, Parameswaran S, Chaudhuri A, Qiu F, Ahmad I. Notch and Wnt signaling mediated rod photoreceptor regeneration by Müller cells in adult mammalian retina. PLoS One. 2010 Aug 26;5(8):e12425.


Parameswaran S, Balasubramanian S, Babai N, Qiu F, Eudy JD, Thoreson WB, Ahmad I. Induced pluripotent stem cells generate both retinal ganglion cells and photoreceptors: therapeutic implications in degenerative changes in glaucoma and age-related macular degeneration. Stem Cells. 2010 Apr;28(4):695-703.


Balasubramanian S, Babai N, Chaudhuri A, Qiu F, Bhattacharya S, Dave BJ, Parameswaran S, Carson SD, Thoreson WB, Sharp JG, Rao M, Ahmad I. Non cell-autonomous reprogramming of adult ocular progenitors: generation of pluripotent stem cells without exogenous transcription factors. Stem Cells. 2009 Dec;27(12):3053-62.


Sowmya P, Madhavan HN. Diagnostic utility of polymerase chain reaction on intraocular specimens to establish the etiology of infectious endophthalmitis. Eur J Ophthalmol. 2009 Sep-Oct;19(5):812-7.


Sowmya P, Madhavan HN. Analysis of mixed infections by multiple genotypes of human cytomegalovirus in immunocompromisedpatients.J Med Virol. 2009 May;81(5):861-9.


Shyamala G, Sowmya P, Madhavan HN, Malathi J. Relative efficiency of polymerase chain reaction and enzyme-linked immunosorbant assay in determination of viral etiology in congenital cataract in infants. J Postgrad Med. 2008 Jan-Mar;54(1):17-20.


Sowmya P, Dhanya V, Madhavan HN, Therese KL. Comparative efficacy of PCR-based restriction fragment length polymorphism (RFLP) & multiplex PCR for glycoprotein B (gB) genotyping of human cytomegalovirus. Indian J Med Res. 2007 Aug;126(2):122-7.


Madhavan HN, Sowmya P, Therese KL, Malathi J. Development and application of a novel multiplex polymerase chain reaction for semi-quantitation of human Cytomegalovirus in clinical specimens. J Virol Methods. 2007 May;141(2):166-72.


Sowmya P, Madhavan HN, Therese KL. Evaluation of three polymerase chain reaction tests targeting morphological transforming region II, UL-83 gene and glycoprotein O gene for the detection of human cytomegalovirus genome in clinical specimens of immunocompromised patients in Chennai, India. Virol J. 2006 Mar 30;3:20.


Sowmya P, Madhavan HN, Therese KL. Failure to genotype Human Cytomegalovirus by PCR-RFLP method due to sequence variation within the primer binding site. J Virol Methods. 2006 Jun;134(1-2):250-1.


Shyamal G, Sowmya P, Sudha B, Malathi J, Therese LK, Madhavan HN. Application of polymerase chain reaction to differentiate herpes simplex virus 1 and 2 serotypes in culture negative intraocular aspirates. Indian J Med Microbiol. 2005 Oct;23(4):239-44.
Book Chapters:
Hope or Hype: Stem cells as therapeutics in retinal degenerative diseases In: Gene and Cell Therapy: Biology and Application (2018) Parameswaran S. (Giridhara R. Jayandharan Ed.): Springer Singapore; 259-290.


Non cell Autonomous Reprogramming to a Pluripotent State In: Nuclear Reprogramming and stem cells (2012) Parameswaran S, Balasubramanian S, Ahmad I. ( Ainscough J, Yamanaka S and Tada T Eds.) : Humana Press Inc Totowa, NJ; 141-153.


Retinal Stem cells In: Neural Development and Stem cells (2012) Del Debbio, CB, Parameswaran S, Das AV, Ahmad I (Rao MS, M Carpenter M, Vemuri MC Eds): Humana Press Inc Totowa NJ: 223-244.
2016 - 2019
Early Career Research Award – SERB
2003 - 2008
Reseach Fellowship –CSIR
Ms Ambily Vincent
MS.MLT
Ms SuganyaAnnadurai
M.Tech
Ms Ambily Vincent
MS.MLT
Ms SuganyaAnnadurai
M.Tech
Dr Sowmya Parameswaran, Phd
RadheshyamKanoi Stem Cell Laboratory
Vision Research Foundation,
41/18 College Road, Nungambakkam
Chennai – 600 006.
Ph: +91-(044) 28271616 Extn:1302
Email: drpsowmya@snmail.org